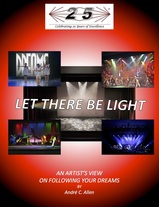 Support the next generation of designers and technicians. Download a copy of the critically acclaimed ebook chronicling the first 25 years of production designer André C. Allen. Proceeds go to the formation of a summer technical theater camp for high school juniors and seniors interested in production design and entertainment technology.


"Let There Be Light" is an inspirational ride that shows the rise of a kid from Queens, New York from stagehand to producer; from humble beginnings to world touring. Get your copy today!
---
Super Premium + World Premiere = BlackLight New York!!!





In the Big Apple everything is bigger. The ideas. The events. The experiences. BlackLight New York is the next stage in the evolution of Atlanta's Super Premium Production Design Firm, BlackLight Productions Inc. From the creative mind of production designer and New York native, André Christopher Allen, comes BlackLight New York. After two decades of designing world class theatrical experiences for audiences across the nation, BlackLight comes home to New York City!

BlackLight New York
is the "Producing" side of the Super Premium Production Design Firm
BlackLight Productions Inc.
Based in the heart of Times Square, BlackLight New York produces entertainment experiences in key markets. From concerts to world premiere musicals, BlackLight New York creates a wide variety of events. It serves as a hub for producing new theatrical works and big scale live event experiences. Utilizing the resource network of the Atlanta office, it also provides logistic support for large touring productions.
BlackLight New York's focus is on Tour Management, Show Financing, and Theatrical Investment. Using a Broadway style "Angel" investment strategy, BlackLight New York provides individuals the opportunity to buy shares in new show properties and underwrite other live entertainment products.*
BlackLight New York finances limited engagements to protect the integrity of the fund and the status of our investment partners. All shows are rigorously vetted and are supported artistically and technically by the production resources of
BlackLight Atlanta
ensuring a show of high production value.
With 25 years experience bringing professional quality performances to stages across the U.S. and abroad, BlackLight steps into a new dimension of programming excellence for audiences around the world.
Times Square Office
1441 Broadway 5th Floor
New York, New York 10018